About Orlaco
  
Orlaco Norge AS is a sales organisation of Orlaco Products B.V. Orlaco Norge collaborates closely with VTG (Vision Technology Grid AS), a system supplier and developer of visualisation systems.
Orlaco Norge AS has more than 20 years of experience with industrial video equipment. We always endeavour to adapt our products to the individual client's needs and specifications. The majority of products we sell are innovative electronic devices that provide visual information.
Our products encompass wireless video transfer, camera systems for the transport sector, cranes and lifting equipment, wireless cameras for cranes, and video systems for the maritime and offshore sectors and EEx equipment.
Quality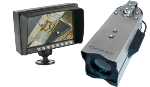 Orlaco manufactures camera systems that meet the strictest quality requirements and are ISO9001-2000 certified.
Orlaco has also undergone auditing for compliance with the "Environmental Management System" certificate (EMS), ISO-14001 as well as the TS-16949 certificate, a similar type of certification for the car industry. These certifications allow Orlaco to provide an even better guarantee for its processes, as well as a greater focus on quality, cost and delivery performance. As a result, Orlaco can ensure excellent service for its clients and work towards further developing and increasing its market share.